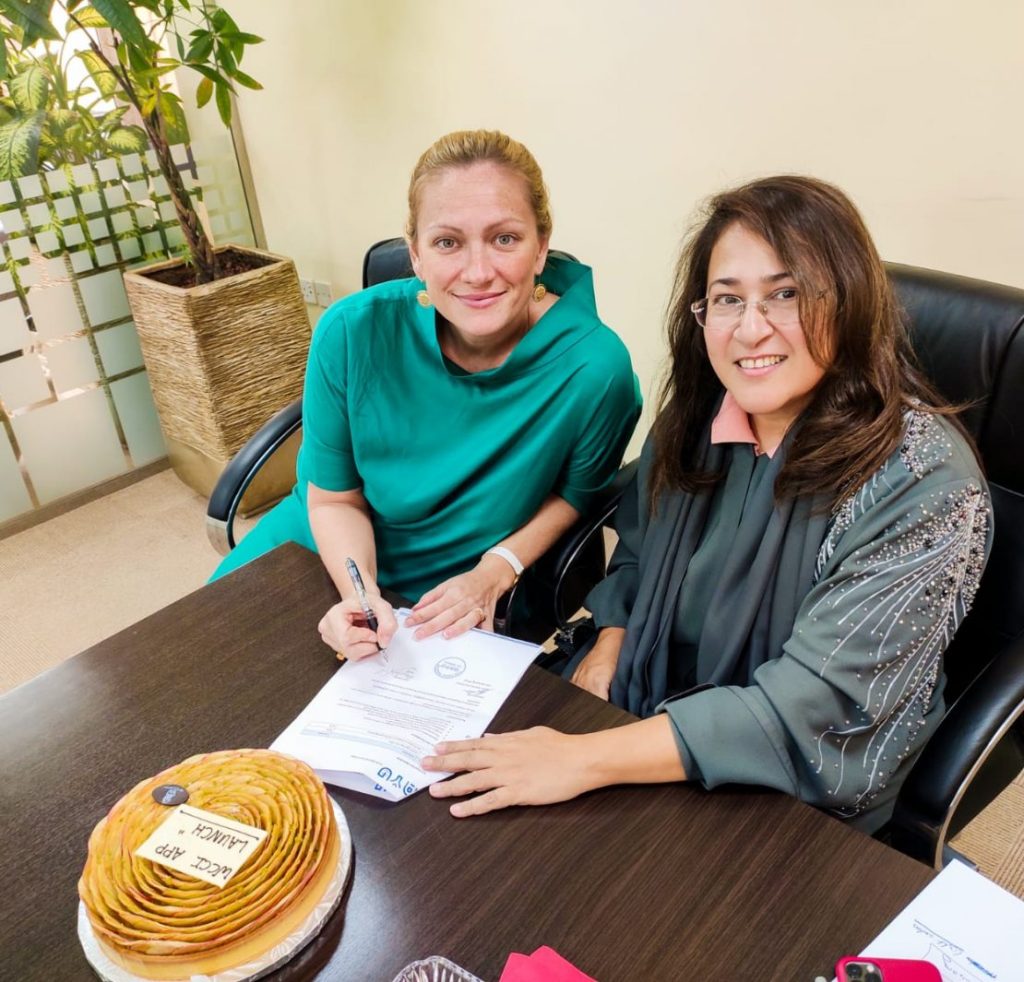 The feminist in us is extremely proud to announce the signage of an application to be launched sometime in the summer of 2020 to be the first in the region to provide crisis care for victims. The signage took its course by Women Crisis Care International (WCCI)'s founder and Chief Executive, Mary-Justine Todd, and Sh. Dr. Eshaa Mohammed Al-Khalifa, CEO of SayG; one of the leading software development companies in Bahrain.
While it might be a hush-hushed topic, it cannot be ignored that violence does exist. Harm does occur. And help is available. WCCI have been doing an incredible job helping women around Bahrain, with a team of advocates consisting of more than 100 people, speaking around 20 languages to make sure inclusive help is there, no exceptions.
The app will definitely be a first in the region; especially considering that the WCCI are the first victims crisis advocacy program in the Middle East as a whole. They officially started their operations in January 2016, with the purpose of aiding victims of domestic and sexual abuse in the country.
Since the first step towards healing is seeking help, it's only natural for help-providers to want to be present at all times, for everyone. With availability being key, WCCI's app aims to speed up the pace of their advocacy services, as they will become available within instances for women not just around the Middle East, but around the world as well.
Said services include crisis counseling, safety planning, emergency transportation, police reporting, medical care, shelter admittance, food delivery, court accompaniment, legal advice, legal counsel, rights/national legislation information, therapy, employment support, local resource information, in addition to long-term goals & planning.
We're sure that a lot of you are wondering about the operational process of the WCCI app, and how is it going to work. Sh. Dr. Eshaa states that "It will be an interface used by the WCCI volunteers and those who seek support from the WCCI." So basically, WCCI's headquarters in Bahrain would maintain the app; including all of its research and coordination. It would additionally serve as a platform from which the volunteers work to support women in their individual locations.
All of which is possible throughout the WCCI's collaboration with SayG. What's new for SayG is that this app will not just link between the two mentioned parties (volunteers and victims), but it will also help the volunteers by linking them to other apps. "For example, women who reach out to a WCCI volunteer might need transportation, so the app will be able to link the person to another app that can help her with this." shares Sh. Dr. Eshaa.
Expressing her gratitude towards this major step forward towards helping women, founder Mary-Justine shares: "Violence against women is a global epidemic that needs to be addressed in order to promote thriving communities. I am so proud and honored to be developing the Middle East's first and only women's crisis response app, that will allow our 24/7 victim's services from here within Bahrain to become available to millions of women throughout the region. This is one of the first important steps to ensure that victims of abuse are treated fairly, kindly and effectively both within society and under the law. Together, we can end violence against women and help to create a more fair and just world."
Did you know that you can join the WCCI and become a crisis advocate? If that's something you'd want to do (and we encourage if you have the capabilities), click here for more information. You can also follow their Instagram page over here for their latest news.
For more information, visit https://www.startupmgzn.com/english/opinions/women-crisis-care-international-to-launch-an-app-with-sayg-in-2020/